Casein Adhesives are made from Milk Protein.
These Adhesives based on casein offer a set of unique characteristics that are widely recognized by the high-speed glasslabelling markets, such as the Beer Breweries.
Ideally a casein adhesive is applied at elevated temperatures (25oC - 35oC).
When the relatively warm casein adhesive is applied to a cold bottle, the viscosity of the adhesive increases dramatically - offering a very high initial tack.

Intercol also offers Ice Water Resistant formulations.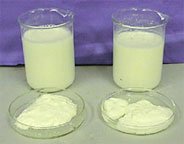 Would you like to find out if we are able to offer what you are looking for ?
Please use the enquiry form below and we will contact you as soon as possible.