In recent years Intercol has grown into an international player with various developments to its name, such as innovative water-based adhesives and metallocene hotmelts. Going to be able to supply adhesives that are produced with food regulations BRC and ISO.
Hot melt factories
The hygiene requirements are often similar to those of a restaurant, Food-related products production lines have employees with hairnets on.
The high hygiene requirements are a consequence of meeting international food standards which the company expects to obtain by the end of this year. This is necessary because more and more producers in the food, packaging and cosmetics industry demand that their suppliers have all matters concerning clean and safe production in order. They take HACCP and ISO 22000 for granted.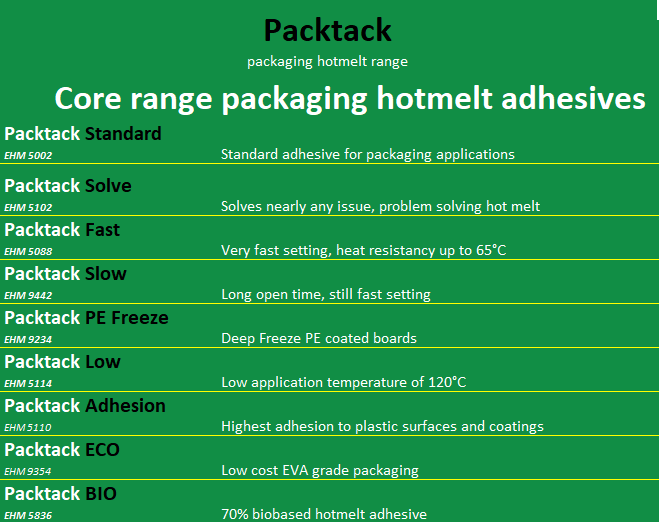 Sustainable development
Intercol has various new developments within, such as a new range metallocene hotmelts and the water-based SML adhesives. When developing new products, we don't just think about improving performance or functionality, we also look for solutions that are more sustainable and safer.
Intercol has build it's company on technology to solve, blend and produce polymers in water.
Packaging applicates are very diverse, some adhesives have to adhere to OPP, paper and aluminum foil for the packaging of confectionery, snacks and medicines, among others.
Cheapest hot melt adhesive
Another technology that has contributed to Intercol's strong growth in recent years are metallocene hotmelts/ Metallocene hotmelts offer an improved alternative to conventional EVA-based hotmelts (ethylene vinyl acetate). With a higher price per kilogram is, the total cost of ownership is significant lower, because glue adheres stronger there's less needed. In addition, with metallocene hot melt you have less machine maintenance, because it is more temperature stable than the EVA hot melt, so less discoloration, burning, malfunction and the machine stays clean longer. Thanks to better flow properties in combination with a lower product density, good adhesion can be achieved with less glue.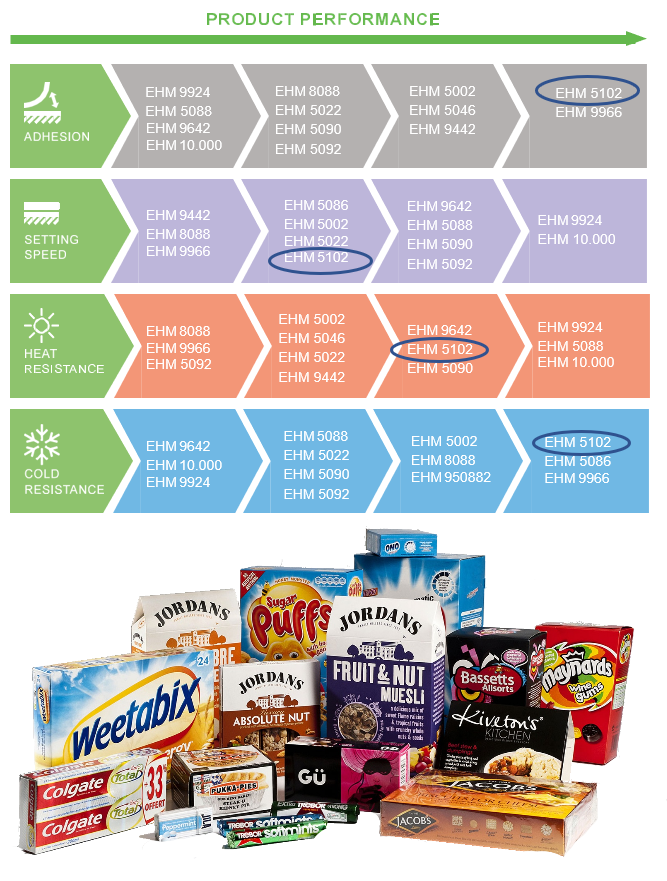 Changing from EVA to metallocene
A switch requires a little attention, with the right changeover procedure it usually goes smoothly. The metallocene acts as a cleaning agent for the system, so in the start-up phase there may be a malfunction, but soon it normalizes to a cleaner and more stable process'.

Application specific adhesives
Intercol introduced its first thermostable, white hotmelts in 1998 and since then new types have been developed regularly. At FachPack the company presented three new variants, starting with the cost-effective EHM 5022 An economical variant with an 'off white' color, which is suitable for the fruit & vegetables market, for example. For manufacturers of fresh products where environmental or transport conditions can be heavy, there is the EHM 5090 . This is a fast setting hot melt that can withstand temperatures up to 70 degrees Celsius.
Low temperature metallocene hot melt adhesive
Finally, Intercol has a low temperature melting hot melt metallocene EHM 10.004 added to it's standard packaging range.
This adhesive can be applied at a lower temperature than normal (120 degrees Celsius), which is safer for operators and costs less energy.
By consulting the standard packaging range customers can quickly select the right adhesive. If the desired adhesive is not there, Intercol helps to find the right adhesive out of 2500 already developed grades. If this does not fit the requirements, we are able to develop acustom-made adhesive in only a few weeks. As an example, there are fruit producers in South America, who had to apply hot melt under relatively high temperatures to a difficult cardboard type. For this purpose a special packaging hot melt adhesives has been developed.